2014 Project Week:Ultrasound Visualization and Navigation in Neurosurgery
From NAMIC Wiki
Home
< 2014 Project Week:Ultrasound Visualization and Navigation in Neurosurgery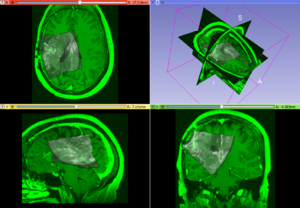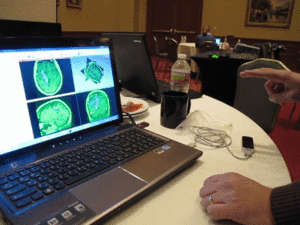 Key Investigators
BWH: Matthew Toews, Alireza Mehrtash, Steve Pieper, William M. Wells III
Queen's: Csaba Pinter, Andras Lasso
Project Description
Objective
This project will investigate approaches to ultrasound-based visualization and navigation in the context of neurosurgery. The goal will be to develop a persistent representation of intra-operatively acquired 2D US data that can be visualized in conjunction with pre-operative MR data.
Approach, Plan
We will brainstorm approaches based on current Slicer and PLUS software capabilities. Possible approaches include

real-time 3D ultrasound reconstruction
painting US data onto predefined visualization planes.
Progress
We developed a python module that can be used to reconstruct ultrasound volumes online from Slicer, via an active PLUS Server connection.
The ultrasound volume can be generated rapidly, visualized and navigated via Slicer, e.g. using a stylus and the VolumeResliceDriver module.
We tested the module on data an existing AMIGO neurosurgery case, and investigated navigation via a Leap Motion gesture controller.
Links
PLUS Server Reconstruction Information: