Special topic breakout: DWI/DTI
From NAMIC Wiki
Home
<
Special topic breakout: DWI
< DTI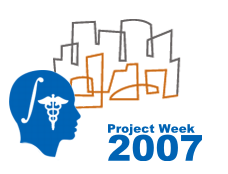 DWI/DTI Breakout Session
June 26th, 4-5pm
Location: Grier Rooms A & B: 34-401A & 34-401B
Attendees:
Katharina
Marek Kubicki
Sylvain Bouix
Raul San Jose
Lauren O'Donnell
Marc Niethammer
Casey Goodlett
Jim Miller
Wendy Plesniak
John Melonakos
Ran Tao
Demian Wassermann
Agenda
Current design and work in progress: what has it been achieved?.

MRML structure.
Display options.
Slicer-matlab interface.

External applications
Core interaction modes: What do a DTI study needs from Slicer 3?

Visualize raw DWI data
Seed regions.
Display glyphs.
Scalar measures
Tensor transformations
ROI-based tractography/connectivity.
Stochastic tractography.
DWI/DTI to structural registration.
Study End-points: tract-based measurements vs. ROI-based measurements.

New trends: shaping Slicer3 into the future

Multiple tensor model: basic design ideas.
High angular resolution studies.
Notes
Fiber Viewer stats on fibers may be available this week. They also have fiber resampling.