Difference between revisions of "Project Week 31"
From NAMIC Wiki
---
Revision as of 17:14, 30 August 2018
Home
< Project Week 31
Back to Events
A summary of all past Project Events.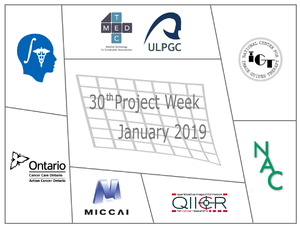 Welcome to the web page for the 31st Project Week!
It is a pleasure to announce that the 31st Project week will be held on June 24-28, 2019 at MIT, Boston, USA.
This project week is an event endorsed by the MICCAI society.
Please make sure that you are on the NA-MIC Project Week mailing list.
Local Organizing Committee
Logistics
Dates: June 24-28, 2019.
Location: MIT, Boston, USA
Registration:
Registration Fee:
Projects
Registrants
Do not add your name to this list - it is maintained by the organizers based on your paid registration.