2008 July Slicer IGT VV Link Session II
From NAMIC Wiki
Home
< 2008 July Slicer IGT VV Link Session II
Date: Wednesday, July 23
Location: 1249 Boylston Street, Second Floor Conference Room. (Driving directions to 1249 Boylston, Boston MA)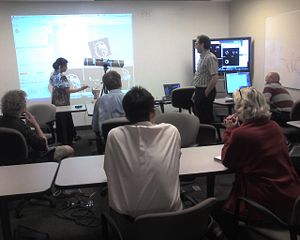 Hotel Information: Boston_Hotels
Participants:
Xenios Papademetris
Noby Hata
Haiying Liu
Junichi Tokuda
Steve Pieper
Tina Kapur
Lauren O'Donnell
Ron Kikinis
Schedule
Tuesday Afternoon:
Availability: Xenios at ~1:30pm, Steve, Haiying, Junichi
Wednesday:
Availability: Steve in afternoon, All day: Xenios, Haiying, Junichi
Continuation of Brainlab vvlink integration with Slicer
2:30 journal club presentation by Xenios (at 1249)
Agenda
Steve suggested:

going through the vvlink and openigtlink protocols

identifying areas places where igtl can be expanded
finding gaps in vvlink that will need workaround (image orientation - Xenios has heuristics for this)

reviewing options for the vv/igtl proxy server

should this be on a stand alone machine?
do we make this proxy code into a project of it's own or part of igtl library
write any test code to move the vv/igtl proxy concept along (how can we use the demo from the project week as the basis for something that can be used clinically?)

Xenios feedback on igtl library software and use cases (he ended up using the C code and not the C++)
collect practical feedback on vvlink in the OR from Yale's experience
get demos of Yale software and discuss interoperability options and possible funding mechanisms.

Lauren O'Donnell from the BWH Neurosurgery Department can join on Tuesday afternoon to discuss what clinicians would like to see out of the system.
Referencees
Results
Presentation by Xenios Papademetris at special SPL Journal Club session.
Successful connection of BrainLab and Slicer using Bioimage Suite bridge.

translation coordinates
volumetric image data
~20 frames per second interaction
interactive diffusion tractography seeding at tracked locations