2009 Summer Project Week 3DGRASE
From NAMIC Wiki
Home
< 2009 Summer Project Week 3DGRASE
Key Investigators
BWH: Scott Hoge
WFU: Bob Kraft, Huan Tan
Mediri: Mattias Guenther
Objective
The objective of this project is to port Dr Guenther's 3D GRASE pulse sequence for perfusion imaging to the GE 3T scanner. Once ported, we will seek to integrate the pulse sequence with image reconstruction routines from the NCIGT fast imaging library.
Approach, Plan
Our goals for the project week are:
1. Complete development of GE EPIC version of 3D GRASE
2. Perform and evaluate performance on 3T short bore
Progress
3D GRASE ported to GE scanner platform, and integrated with PROPELLER EPI with NCIGT fast imaging library used for parallel imaging stage of Nyquist ghost correction step.
Prior to IGT Week:
Perfusion ASL using PROPELLER EPI at WFU gave 5 slices, 128x128 image size, 8mm through plane resolution, with 2mm gap in roughly 6 minutes
After IGT Week:
3D GRASE PROPELLER PASL gives 16 slices, 128x128 image size, 5 mm through plane, with no gap, in around a 3 min scan.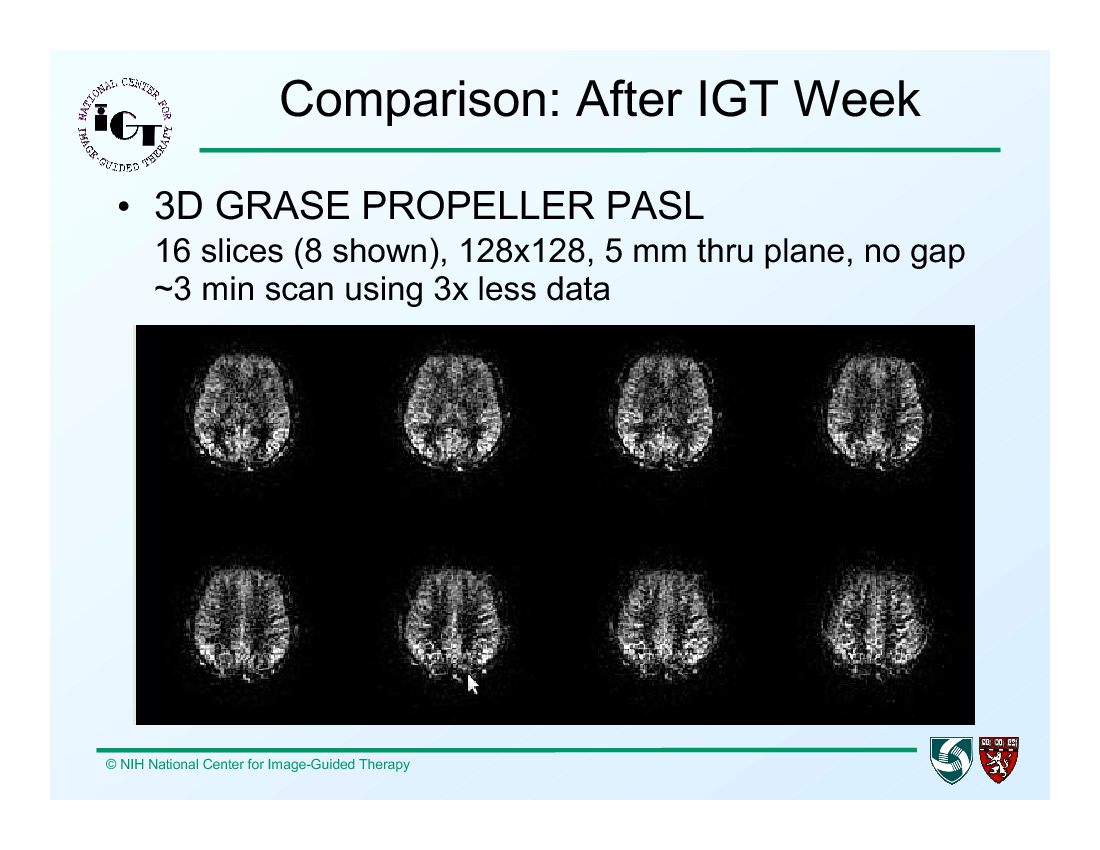 References
Matthias Gunther, Koichi Oshio, and David A Feinberg. Single-shot 3D imaging techniques improve arterial spin labeling perfusion measurements. Magn Reson Med, 54(2):491-8, 2005. [[1]]
James G. Pipe. Motion correction with PROPELLER MRI: Application to head motion and free-breathing cardiac imaging. 42(5):963-969, 1999.