2015 Summer Project Week:BigDataFeatures
From NAMIC Wiki
Home
< 2015 Summer Project Week:BigDataFeatures
Key Investigators
Matthew Toews, École de Technologie Supérieure
William Wells, BWH, Harvard Medical School
Raul San Jose Estepar, BWH, Harvard Medical School
Tina Kapur, BWH, Harvard Medical School
Utsav Pardasani, Robarts (Observing!)
Salvatore Scaramuzzino (Interested!)
Andrey Fedorov, BWH
3D SIFT-Rank Visualization, SLC 2015, IPMI 2015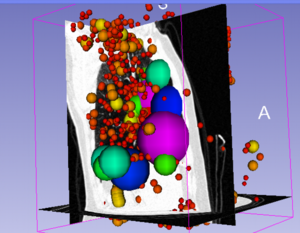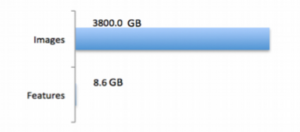 Project Description
Objective
This project will investigate the use of 3D SIFT-RANK image features for organizing and deriving information from 3D medical image volumes.
Technology: invariant feature extraction, descriptor representation.
Application domains: registration, segmentation, classification.
Image domains: lung CT, brain MR, prostate and brain ultrasound.
Clinical use case scenarios: chronic obstructive pulmonary disease, Alzheimer's disease, cancer.
Approach, Plan
Discussion and documentation
Algorithms: fast KNN methods, hashing, robust estimation (RANSAC, Hough transform).
Mathematical formalisms: probabilistic inference, kernel methods, manifold learning.
Progress
1) Discussed applications of 3D SIFT-Rank
Analyzing COPD - lung CT - Raul San Jose Estepar
Identifying similar cases - general MR/CT/US - Tobias Penzkofer
Infant brain analysis - brain MR - Steve Pieper
Prostate segmentation - MR/US - Andrey Federov, Salvatore Scaramuzzino
Astronomical galaxy classification - radio data cube (lambda=21cm) - Davide Punzo
2) Coding for kernel regression framework (C++)
References
[1] SIFT View, NAMIC 2015 SLC Project Week
[2] "A Feature-based Approach to Big Data Analysis of Medical Images", M. Toews, C. Wachinger, R. S. J. Estepar, W.M. Wells III. Information Processing in Medical Imaging (IPMI), 2015.
[3] "Keypoint Transfer Segmentation", C. Wachinger, M. Toews, G. Langs, W.M. Wells IIIi, P. Golland. Information Processing in Medical Imaging (IPMI), 2015.