CTSC:ARRA.102709
From NAMIC Wiki
Home
< CTSC:ARRA.102709
Back to CTSC:ARRA supplement

Agenda
Creation of 2 groups (policy and technical)
Review spreadsheet with information on use case 1 for different institutions
Harvard Catalyst Medical Informatics group Meeting Minutes October 27, 2009
In attendance:
Valerie Humblet
Yong Gao
Mike Mendis
Kathy Andriole
Alexander Zaitsev
Ron Kikinis
Wendy Plesniak
Jesse Wei
Randy Gollub
Simon Warfield
Mark Anderson
1. Creation of 2 groups (policy and technical)

In order to get more productive during the meetings, Shawn proposed to divide the team in two discussion subgroups, one in charge of all the technical problems and one in charge of the policies (e.g. data sharing, permission etc).
The first action item for the policy subgroup will be to set up a meeting at CHB. Valerie and Randy will organize it.
2. Review spreadsheet with information on use case 1 for different institutions

The group in attendance during this meeting focused on the technical side of use case 1 (A PI wants to use his own clinical images to do a research project. He is not leaving his institution).
The spreadsheet with the requirements for each institution was updated. Since the information in this file are not public, the document is stored on a secured website.
3. General discussion about the scope of the mi2b2 project

Below is a schema of the mi2b2 project: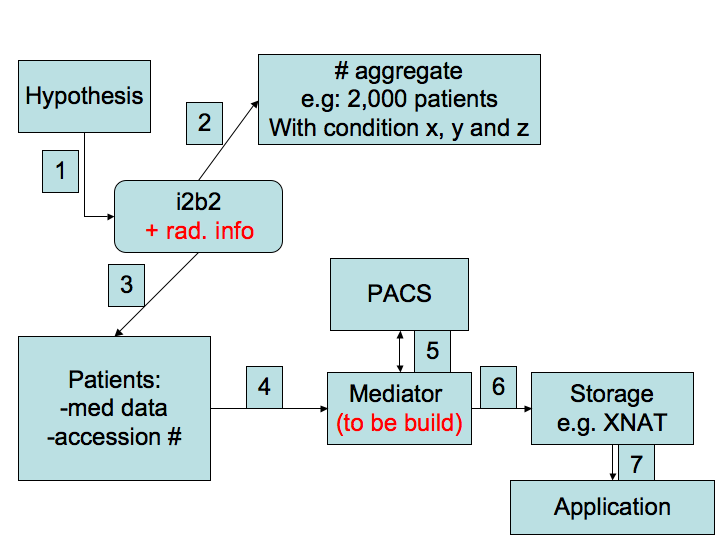 1: PI does query i2b2 (updated version with radiology data added, for now i2b2 contains no imaging data)
2: The first query results in an aggregate numbers (eg: 2,000 patients match the conditions x, y and z)
3: After obtention of an IRB to do his research project, the PI does a second query that will give him details about the patients (med. data, accession numbers etc).
4: The accession numbers that will allow to retrieve the medical imaging data are send to a mediator. The mediator is the biggest piece to be build, it can not disturb the clinical workflow. The ARRA supplement includes resources to buy hardware and to hire personnel (programers) to build the mediator.
5: The mediator queries the PACS within the site (no cross-institution so far)
6: The data, either identified or deidentified depending on the terms of the IRB, are send to a storage unit. It could be XNAT or another solution depending on the institution.
7: The PI can use the data with any application of his choice to do his research project.