Project Week 29
From NAMIC Wiki
Home
< Project Week 29
Back to Events
A summary of all past Project Events.
Moved to github
Please visit the new homepage for 29th Project Week on GitHub.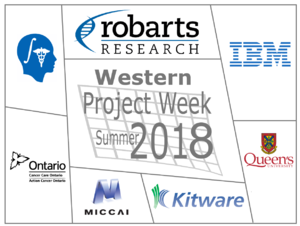 Welcome to the web page for the 29th Project Week!
It is a pleasure to announce that the 29th Project week will be held on July 16-20, 2018 at the Robarts research Institute in London, Ontario, Canada.
This project week is an event endorsed by the MICCAI society.
Please make sure that you are on the NA-MIC Project Week mailing list.
Local Organizing Committee
Logistics
Dates: July 16-20, 2018.
Location: MIT
Registration:
Registration Fee:
Projects
Registrants
Do not add your name to this list - it is maintained by the organizers based on your paid registration.