Projects:ShapeAnalysisOfHippocampus
From NAMIC Wiki
Home
< Projects:ShapeAnalysisOfHippocampus
Back to NA-MIC Collaborations, UNC Algorithms, Dartmouth DBP 1, Isomics Engineering

Shape Analysis of the Hippocampus
Our Objective is to examine hippocampal shape in patients with schizophrenia and healthy controls.
Description
Initial hippocampal segmentations of healthy control data were successfully processed at UNC (see average asymmetry as examplary analysis in Fig 2.)
Data has been acquired at 1.5T on 20 patients with schizophrenia and 20 healthy controls at Dartmouth.
Have begun to apply 3D Slicer for manual segmentation. Additional subject accrual ongoing.
Fig 1. Healthy Asymmetry results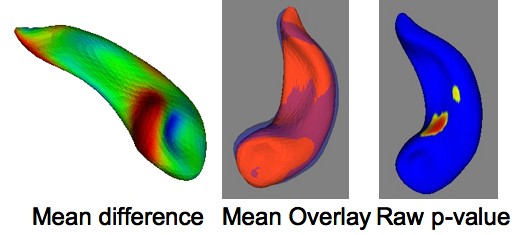 Key Investigators
UNC Algorithms: Martin Styner, Guido Gerig
Dartmouth DBP 1: Andrew Saykin, Tara McHugh, Robert Roth, Laura Flashman
Isomics Engineering: Steve Pieper
Links