Training:Slicer Community Highlights and Testimonials
From NAMIC Wiki
Home
< Training:Slicer Community Highlights and Testimonials
[Page Under Construction]
The Antikythera Mechanism (Greece)
The most representative and unique worldwide achievement of the ancient Greek technology of the Hellenistic era is the Antikythera Mechanism. This very complex bronze geared machine, consisted of lots of mechanical parts and it could calculate the position of the Sun in the sky, the phases of the Moon, the eclipses of these two celestial bodies, the date and even the time of these events and also the dates the athletic games started

Source: Ancient Machine Tools for the Construction of the Antikythera Mechanism Parts. Aristeidis Voulgaris, Christophoros Mouratidis, Andreas Vossinakis.Digital Applications in Archaeology and Cultural Heritage. 2019 Jun; 13:e00092.

Institutions: City of Thessaloniki, Thessaloniki, Greece; Hellenic Ministry of Education, Research and Religious Affairs, Greece; Thessaloniki Astronomy Club, 54646, Greece; Thessaloniki Astronomy Club, Thessaloniki, Greece.
3D Slicer ranked #3 best open-source software for Linux platforms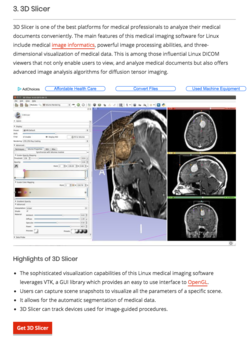 Highlights of 3D Slicer:
The sophisticated visualization capabilities of this Linux medical imaging software leverages VTK, a GUI library which provides an easy to use interface to OpenGL.
Users can capture scene snapshots to visualize all the parameters of a specific scene.
It allows for the automatic segmentation of medical data.
3D Slicer can track devices used for image-guided procedures.

Source: 3D Slicer ranked #3 best open-source software for Linux platforms
Volume rendering of 4D Data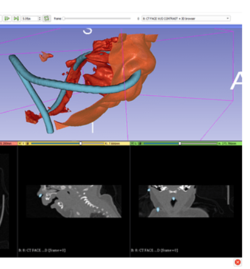 The appeal of the volume rendering was the ease of working with 4D data, as the volume is cycled through the time steps, the volume-rendered representation naturally changes with the image volume. (...)Also, I liked that it was easy to create a representation where it was trivial to tell which side of the surface was facing air, and which side was facing non-air by putting two different colors on either end of my step function. Thanks again for your help.(...) Slicer is an amazing tool, and the community support is second to none!

Source: Slicer Forum