2008-Project-Week-Welcome
From NAMIC Wiki
Home
< 2008-Project-Week-Welcome
Back to 2008 Project Week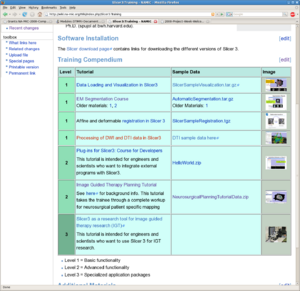 A big thank you to Donna Kaufman for making the logistics painless.
We have several breakout rooms for people to spread on Tuesday, Wednesday, and Thursday.

Jackson Room 38-466
32-D407 (Down the hall in Stata)
32-D507 (Stata)

The main objective of this week is to accomplish progress with your own project.
We will cut over to a new version of the SVN on Tuesday, June 24th, at 1pm EDT. Zack Galbreath will provide details.
Please sign up for slicer mailing lists and the issues tracker while you are here. We can help if there are issues.
I am happy to help you to use Slicer 3 (at least for those pieces that I know).
We are beginning to develop documentation and training materials for Slicer3. Its all on the wikis, so please contribute.
There will be an announcement for a contest for best contributed tutorial sometimes in July. A draft of the page can be found on the NA-MIC wiki.
Next Project Week in Salt Lake City, Jan 5-9, 2009.
And now over to Tina who organized the whole meeting (thank you, thank you).