2014 Project Week:MRAFusionRegistration
From NAMIC Wiki
Home
< 2014 Project Week:MRAFusionRegistration
Key Investigators
Josh Cates, Salma Bengali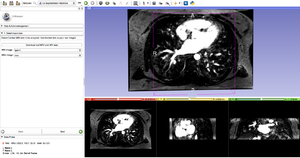 Project Description
We have been developing an approach to segmentation of cardiac DE-MRI images that uses the associated MRA to help define endocardial boundaries. This approach is possible because CARMA is now acquiring gated MRAs routinely for patients. The approach is to perform a quick, semi-automated segmentation of the LA in the MRA, register the MRA to the DE MRI, and then refine the registered segmentation based on the DE MRI data.
Objective
To design and implement a Slicer module or wizard that walks the user through segmentation of the LA using the MRA in conjunction with the DE MRI
Approach, Plan
Refine and test MRA segmentation based on available slicer tools
Refine and test MRA to DE MRI segmentation in CMR toolkit extension
Design and build Wizard module for slicer
Progress
We have completed the first two steps for this wizard and will add the registration step.
Delivery Mechanism
This work will be added to the CMR Toolkit extension as a Slicer loadable module.