IGT:ToolKit/Neurosurgical-Planning
From NAMIC Wiki
Home
<
IGT:ToolKit
< Neurosurgical-Planning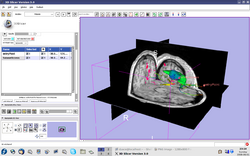 Back to IGT:ToolKit
Neurosurgical Planning for Image Guided Therapy using Slicer3
Overview
This tutorial reviews Slicer3's Image Guided Therapy capabilities using the example of preoperative planning for neurosurgery. It covers how to perform multiple tasks in Slicer3, including:
Image registration
Segmentation and model making
Diffusion Tensor Imaging and tractography
Using an atlas
Tutorial Materials
Neurosurgical planning tutorial dataset - contains:

Patient dataset
SPL-PNL brain atlas
MRML scene registering the patient with the atlas
MRML scene registering the patient's anatomical MRI with the patient's DTI
MRML scene registering of precomputed tensor data for the patient's DTI
Bonus Materials
This is a subset of the data above, which demonstrates some of the capabilities of the tractography package in Slicer 3.4. Snapshots 1-4 demonstrate a progression of the analysis of the interrelation of the morphology and DTI.
general view
location of the precentral gyrus based the surface of the white matter
peritumoral seeding of tractography: The general appearance is that of a "ball of spaghettis" with two tentacles,
exploration of the "tentacles": fiducial based seeding in the cerebral peduncle and in the vicinity of Brocca's area reveal potential corticospinal tract and acuate fasciculus
Software Installation Instructions
Go to the Slicer3 Install site.
People