2010 Summer Project Week
From NAMIC Wiki
Home
< 2010 Summer Project Week
Back to Events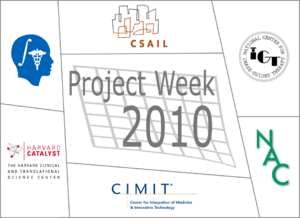 Welcome to the web page for the 11th Project Week!
Summary
The 11th PROJECT WEEK was held on June 21-25, 2010 in Boston, at MIT and Brigham and Women's Hospital. It recorded 126 registered attendees, who worked on 71 projects. These attendees represented 30 academic sites and 15 companies. Participants traveled to the project week from 9 countries (Austria, Singapore, France, Germany, Japan, Italy, England, Poland, and Canada), and from 16 states within the US (MA, NY, NC, MD, CA, UT, OH, MO, GA, PA, CO, IA, FL, DC, CT, NM). The projects, agenda, and affiliations of attendees are detailed below.
A summary of all past Project Events.
Projects
Segmentation
Registration
Shape Analysis
Diffusion
IGT
Radiotherapy
Dicom RT Plugin (Greg Sharp, Tamas Ungi)
Adaptive Radiation Therapy for H&N Cancer (Marta Peroni,Polina Golland,Greg Sharp)
Segmentation for Adaptive Radiotherapy for Head, Neck, and Thorax (Ivan Kolesov, Greg Sharp, and Allen Tannenbaum )
Analysis
NA-MIC Kit Internals
Workflows and Integration
Workflows and Service Oriented Architecture Solutions for Slicer3 Modules (Alexander Zaitsev, Wendy Plesniak, Charles Guttmann, Ron Kikinis)
Agenda
Time
Monday, June 21
Tuesday, June 22
Wednesday, June 23
Thursday, June 24
Friday, June 25
Project Presentations
NA-MIC Update Day
IGT Day
Reporting Day
8:30am
Breakfast
Breakfast
Breakfast
Breakfast
9am-12pm
9am: NA-MIC Kit Update (Jim Miller)

Grier Rooms
----------------------------------------
9:20am: 3D Slicer Update (Steve Pieper)
Grier Rooms
----------------------------------------
10am: Superbuild Demo (Dave Partyka)
Grier Rooms
----------------------------------------
10:15am: Break
Grier Rooms
----------------------------------------
10:30-11am: OpenIGTLink Update (Junichi Tokuda)
Grier Rooms
----------------------------------------
11am-12pm: Slicer Hands-on Workshop (Randy Gollub, Sonia Pujol)
Star Room

9am-12pm: Breakout Session:
ITK (Luis Ibanez)
9am-5pm: Breakout Session:
OpenIGTLink
10am-12pm: Project Progress Updates
12pm-1pm
Lunch
Lunch
Lunch
Lunch
Lunch boxes; Adjourn by 1:30pm
1pm-5:30pm
1-1:05pm: Ron Kikinis: Welcome

Grier Rooms
----------------------------------------
1:05-3:30pm: Project Introductions (all Project Leads)
Grier Rooms
----------------------------------------
3:30-5:30pm: Tutorial: Getting Started with Qt (Adam Weinrich, Nokia)
32-155 (Stata Lecture Hall)

1-3pm: Breakout Session:
QT/Slicer (Steve, JC, J2)


Star Room
----------------------------------------
3-4pm: Tutorial Contest Presentations
Grier Rooms
----------------------------------------
4-5pm: Breakout Session:
Data Management (Stephen Aylward)
Star Room

12:45-1pm: Tutorial Contest Winner Announcement


Grier Rooms
----------------------------------------
1-3pm: Breakout Session:
Microscopy Image Analysis (Sean Megason)
Kiva Room
----------------------------------------
3-5pm: Breakout Session:
QA Training (Luis Ibanez)
Star Room
----------------------------------------
3-4pm: Breakout Session:
VTK Widgets (Nicole, Kilian, JC)
32-261 Room
----------------------------------------

5pm: Reception

R&D Pub

1-2pm: Breakout Session:
GWE (Marco Ruiz)


----------------------------------------
2-3pm: Simple Git (Steve Pieper) (Slides)
----------------------------------------
3-4pm: Breakout Session:
Volume Rendering Demos and Discussion (Yin Wu, Steve Pieper)

5:30pm
Adjourn for the day
Adjourn for the day
Adjourn for the day
Adjourn for the day
Please note:
Background
We are pleased to announce the 11th PROJECT WEEK of hands-on research and development activity for applications in Image-Guided Therapy, Neuroscience, and several additional areas of biomedical research that enable personalized medicine. Participants will engage in open source programming using the NA-MIC Kit, algorithm design, medical imaging sequence development, tracking experiments, and clinical application. The main goal of this event is to move forward the translational research deliverables of the sponsoring centers and their collaborators. Active and potential collaborators are encouraged and welcome to attend this event. This event will be set up to maximize informal interaction between participants.
Active preparation begins on Thursday, April 15th at 3pm ET, with a kick-off teleconference. Invitations to this call will be sent to members of the sponsoring communities, their collaborators, past attendees of the event, as well as any parties who have expressed an interest in working with these centers. The main goal of the kick-off call is to get an idea of which groups/projects will be active at the upcoming event, and to ensure that there is sufficient coverage for all. Subsequent teleconferences will allow for more focused discussions on individual projects and allow the hosts to finalize the project teams, consolidate any common components, and identify topics that should be discussed in breakout sessions. In the final days leading up to the meeting, all project teams will be asked to fill in a template page on this wiki that describes the objectives and plan of their projects.
The event itself will start off with a short presentation by each project team, driven using their previously created description, and will help all participants get acquainted with others who are doing similar work. In the rest of the week, about half the time will be spent in breakout discussions on topics of common interest of subsets of the attendees, and the other half will be spent in project teams, doing hands-on project work. The hands-on activities will be done in 30-50 small teams of size 2-4, each with a mix of multi-disciplinary expertise. To facilitate this work, a large room at MIT will be setup with several tables, with internet and power access, and each computer software development based team will gather on a table with their individual laptops, connect to the internet to download their software and data, and be able to work on their projects. Teams working on projects that require the use of medical devices will proceed to Brigham and Women's Hospital and carry out their experiments there. On the last day of the event, a closing presentation session will be held in which each project team will present a summary of what they accomplished during the week.
This event is part of the translational research efforts of NA-MIC, NCIGT, NAC, Harvard Catalyst, and CIMIT. It is an expansion of the NA-MIC Summer Project Week that has been held annually since 2005. It will be held every summer at MIT and Brigham and Women's Hospital in Boston, typically during the last full week of June, and in Salt Lake City in the winter, typically during the second week of January.
Logistics
Dates: June 21-25, 2010
Location: MIT. Grier Rooms A & B: 34-401A & 34-401B.
REGISTRATION: Please click here to do an on-line registration for the meeting that will allow you to pay by credit card, or send a check.
Registration Fee: $260 (covers the cost of breakfast, lunch and coffee breaks for the week).
Hotel: We have reserved a block of rooms at the Boston Marriott Cambridge Hotel, Two Cambridge Center, 50 Broadway, Cambridge, MA 02142. (Phone: 617.252.4405, Fax: 617.494.6565) Please click here to reserve. You will be directed to the property's home page with the group code already entered in the appropriate field. All you need to do is enter your arrival date to begin the reservation process.
All reservations must be made by Tuesday, June 1, 2010 to receive the discounted rate of
$189/night/room (plus tax).
This rate is good only through June 1, 2010.
Please note that if you try to reserve a room outside of the block on the shoulder nights via the link, you will be told that the group rate is not available for the duration of your stay. To reserve those rooms, which might not be at the group rate because it is based upon availability, please call Marriott Central Reservations at 1-800-228-9290.
Here is some information about several other Boston area hotels that are convenient to NA-MIC events: Boston_Hotels. Summer is tourist season in Boston, so please book your rooms early.
For hosting projects, we are planning to make use of the NITRC resources. See Information about NITRC Collaboration
Preparation
Please make sure that you are on the http://public.kitware.com/cgi-bin/mailman/listinfo/na-mic-project-week mailing list
The NA-MIC engineering team will be discussing infrastructure projects in a kickoff TCON on April 15, 3pm ET. In the weeks following, new and old participants from the above mailing list will be invited to join to discuss their projects, so please make sure you are on it!
By 3pm ET on June 10, 2009: Complete a templated wiki page for your project. Please do not edit the template page itself, but create a new page for your project and cut-and-paste the text from this template page. If you have questions, please send an email to tkapur at bwh.harvard.edu.
By 3pm on June 17, 2010: Create a directory for each project on the NAMIC Sandbox (Zack)

Commit on each sandbox directory the code examples/snippets that represent our first guesses of appropriate methods. (Luis and Steve will help with this, as needed)
Gather test images in any of the Data sharing resources we have (e.g. XNAT/MIDAS). These ones don't have to be many. At least three different cases, so we can get an idea of the modality-specific characteristics of these images. Put the IDs of these data sets on the wiki page. (the participants must do this.)
Setup nightly tests on a separate Dashboard, where we will run the methods that we are experimenting with. The test should post result images and computation time. (Zack)

Please note that by the time we get to the project event, we should be trying to close off a project milestone rather than starting to work on one...
People doing Slicer related projects should come to project week with slicer built on your laptop.

Projects to develop extension modules should work with the Slicer-3-6 branch (new code should not be checked into the branch).
Projects to modify core behavior of slicer should be done on the trunk.
Attendee List
NOTE: THIS IS AN AUTOMATICALLY GENERATED LIST FROM THE REGISTRATION WEBSITE. ATTENDEES SHOULD NOT EDIT THIS, BUT REGISTER BY CLICKING HERE.
Yousef Al-Kofahi, CompuCyte Corporation
Peter Anderson, retired
Nicole Aucoin, Brigham and Women's Hospitall
Michel Audette, Kitware, Inc.
Stephen Aylward, Kitware, Inc.
Jim Barabas, MIT
Barrett Ryan, Brigham and Women's Hospital
Alexis Boucharin, UNC Neuro Image Research and Analysis Laboratories
Sylvain Bouix, Brigham and Women's Hospital
Michael Bowers, Johns Hopkins University
Francois Budin, UNC
Everette Burdette, Acoustic MedSystems, Inc.
Laurent Chauvin, Brigham and Women's Hospital
Min Chen, Johns Hopkins University
Jason Crane, UCSF
Nikos Chrisochoides, College of William and Mary
Manasi Datar, SCI Institute
Liya Ding, The Ohio State University
Ryan Eckbo, Brigham and Women's Hospital
Ilker Ersoy, University of Missouri Columbia
Andriy Fedorov, Surgical Planning Lab
Jean-Christophe Fillion-Robin, Kitware, Inc.
Julien Finet, Kitware, Inc.
James Fishbaugh, SCI Institute
Karl Fritscher, UMIT
Yi Gao, Gerogia Tech
Arnaud GELAS, Harvard Medical School
Randy Gollub, MGH
Chris Gorgolewski, Surgical Planning Laboratory
alexandre gouaillard, CoSMo Software
Sylvain Gouttard, SCI Institute
Kedar Grama, Rensselaer Polytechnic Institute
Daniel Haehn, University of Pennsylvania
Adel Hafiane, ENSI-Bourges
Nathan Hageman,
Dieter Hahn, University of Erlangen
Michael Halle, Surgical Planning Laboratory, Brigham and Women's Hospital
Corentin Hamel, UNC Chapel Hill
Nobuhiko Hata, Brigham and Women's Hospital
Kathryn Hayes, Brigham and Women's Hospital
Nicholas Herlambang, AZE, Ltd.
Masakatsu Hoashi, AZE Ltd.
Leslie Holton, Medtronic Navigation
Luis Ibanez, Kitware, Inc.
Jayender Jagadeesan, Surgical Planning Laboratory, Brigham and Women's Hospital
Hans Johnson, University of Iowa
Tina Kapur, Brigham and Women's Hospital
Peter Karasev, Georgia Tech
Ron Kikinis, Brigham and Women's Hospital
Minjeong Kim, UNC-Chapel Hill
Ivan Kolesov, Georgia Institute of Technology
Garrett Larson, UNC-CH
Joohwi Lee, UNC Chapel Hill
Rui Li, MGH
Stefan Lienhard, LMI
Curtis Lisle, KnowledgeVis, LLC
Haiying Liu, Brigham and Women's Hospital
Felix Liu, Beth Israel Deaconess Medical Center
Yanling Liu, SAIC-Frederick, Inc.
Bradley Lowekamp, Lockheed Martin
Raghu Machiraju, The Ohio State University
Vincent Magnotta, The University of Iowa
Mathieu Malaterre, CoSMo Software
Charles Maneval, Brigham and Women's Hospital
Daniel Marcus, Washington University
William Marks, Focused Ultrasound Lab, Brigham and Women's Hospital
Katie Mastrogiacomo, Brigham and Women's Hospital
Joy Matsui, University of Iowa
Sean Megason, Harvard Medical School
Dominik Meier, Brigham and Women's Hospital
Bjoern Menze, CSAIL MIT
Mikhail Milchenko, WUSTL
James Miller, GE Research
Kishore Mosaliganti, Harvard Medical School
Marc Niethammer, UNC Chapel Hill
Isaiah Norton, Brigham and Women's Hospital
Beck Olson, UCSF
John Onofrey, Yale University
Raghav Padmanabhan, RPI
Kannappan Palaniappan, University of Missouri
Beatriz Paniagua, University of North Carolina at Chapel Hill
Xenophon Papademetris, Yale University
Eun-Joo Park, Brigham and Women's Hospital
David Partyka, Kitware, Inc.
Pratik Patel,
Sudhir Pathak, Univeristy Of Pittsburgh
Thierry PECOT, Ohio State University
Marta Peroni, Politecnico di Milano
Antonin Perrot-Audet, Harvard Medical School
Steve Pieper, Isomics, Inc.
Wendy Plesniak, Brigham and Women's Hospital
Kilian Pohl, IBM
Sonia Pujol, Brigham and Women's Hospital
Nicolas Rannou, Harvard Medical School
Tammy Riklin Raviv, MIT, CSAIL
Marco Ruiz, UCSD
Johannes Schick, Surgical Planning Laboratory
William Schroeder, Kitware, Inc.
Mark Scully, The Mind Research Network
Gunasekaran Seetharaman, US Air Force Research Lab
Greg Sharp, MGH
Yundi Shi, UNC Chapel Hill
Nadya Shusharina, MGH
Shantanu Singh, The Ohio State University
Gareth Smith, Wolfson Medical Imaging Centre (WMIC)
Lydie Souhait, Harvard Medical School
Dominik Spinczyk, Silesian University of Technology
Padmapriya Srinivasan,
Xiaodong Tao, GE Research
Matthew Toews, Brigham and Women's Hospital
Junichi Tokuda, Brigham and Women's Hospital
Tamas Ungi, Queen's University
Clement Vachet, UNC Chapel Hill
Veda Vadyar, Brigham and Women's Hospital
Gopalkrishna Veni, SCI Institute
Stuart Wallace, Massachusetts General Hospital
Demian Wassermann, Surgical Planning Laboratory, LMI, PNL
Yihan Wei, Brigham and Women's Hospital
Adam Weinrich, Nokia
Sandy Wells, Brigham and Women's Hospital
Phillip White, Brigham and Women's Hospital
Guorong Wu, University of North Carolina at Chapel Hill
Yin Wu, Mass General Hospital
Atsushi Yamada, Nagoya Institute of Technology
Alexander Yarmarkovich, ISOMICS
Alexander Zaitsev, Brigham and Women's Hospital
Please make sure that you are on the NA-MIC Project Week mailing list.