AHM 2011
From NAMIC Wiki
Home
< AHM 2011
Back to Events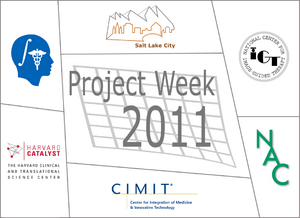 Introduction
This is the home page for the 2011 NA-MIC all hands meeting (AHM). NA-MIC participants meet for a AHM once a year. The purpose of the AHM is to coordinate, discuss plans and report to NIH officers and the external advisory board (EAB). The external advisory board meets with the NA-MIC leadership immediately after the AHM. In parallel, NA-MIC is organizing a project week. These events, with the exception of the EAB meeting, are open to collaborators and potential collaborators.

For more information about the project weeks in general, click here.

For information about the January 2011 project week, see below.

For information about Utah as a travel destination click here.

The 2011 AHM, EAB and Project Week was held
January 10-14, 2011, in Salt Lake City, Utah.
Dates, Venue, Registration
Dates:
The All Hands Meeting and External Advisory Board Meeting will be held on Thursday, January 13th.
Project Activities will be held rest of the week between Monday, January 10th and Friday, January 14th.
Venue: The venue for the meeting is the Sheraton, Salt Lake City, Utah. Please either call the hotel at +801-401-2000 (toll free) and mention the group code "SCI" or book online here. Please note that we need attendees to use this hotel in order not to incur additional charges for use of the conference rooms and keep registration fees low. The group rate is $119/night + tax and is valid for reservations made until December 9, 2010. After that it is $199/night + tax.
Registration: Please click here to register online before January 3, 2011. All participants must a pay registration fee ($200 for AHM only, and $450 for AHM+Project Week), which covers our catering and facilities costs.
Meeting Rooms: See here for the floorplan.
Agenda
Time
Monday, January 10
Tuesday, January 11
Wednesday, January 12
Thursday, January 13
Friday, January 14
Project Activities
(Canyons)
Project Activities
(Canyons)
Project Activities
(Canyons)
AHM, EAB
(Canyons, Arches, Deer Valley)
Project Activities
(Canyons)
7:30-8:00
Breakfast
Breakfast
Breakfast
Breakfast
8:00-10:00
8:00-9:00 DBP Briefing (Ron Kikinis)
(Deer Valley)
9:30-10:00 Training Core Strategy Session
(Deer Valley)
*
Project Work

Project Work
8-9:30am: Breakout: Engineering of Multi-Volume Data in Slicer
(Arches)

8:00 Introduction, Ron Kikinis


8:05-10:00 Roadmap Projects


Project Review

10:00-10:30
Coffee
Coffee
Coffee
Coffee
10:30-12:00
Vision10
Breakout: Slicer 4 - Looking Forward (Steve Pieper, Julien Finet, Jean-Christophe Fillion-Robin)
(Arches)
*
Project Work
Breakout: DTI - Next Generation (Hans Johnson, C-F Westin)
(Deer Valley)
*
Project Work

10:30-12:00: Algorithms


Project Review
12:00-1:00
Lunch
Lunch

Lunch

Lunch
Boxed Lunch and Adjourn
1:00-3:00
1:00 Welcome
Ron Kikinis
Segment a spine challenge

1:10pm Project Introductions
All Project Leads

1-2pm: Breakout: Pathology and Longitudinal Followup
(Guido Gerig)
(Deer Valley)


2-3pm: Breakout: Particle Shape Correspondence
(Martin Styner, Tom Fletcher, Ross Whitaker)
(Arches)


Project Work

1:00-2:30 Engineering


2:30-3:00 Outreach and Training (Sonia Pujol) (slides)

3:00-3:30
Coffee
Coffee
Coffee
Coffee
3:00-5:00
Breakout: Slicer with Ron (Ron Kikinis)
(Arches)

4:00-5:00 Breakout: DTI analysis & longitudinal analysis for HD (Hans Johnson, Guido Gerig, Martin Styner)

Project Work

EAB
(Deer Valley)
3:00-4:00 Discussion with NA-MIC Leadership
4:00-5:00 Closed Session
05:00-07:00
4:30-6:30
How to write a loadable module(J2, JC)
6:00 Optional: Beer at Murphy's (like last year)
General Announcements:
Registered Attendees
NOTE: The registered attendee list will be posted here by the organizers. DO NOT add your name to this list yourself. Tkapur 01:19, 5 January 2011 (UTC)
Michael Ackerman :: National Library of Medicine
Nicole Aucoin :: Brigham and Women's Hospital
Stephen Aylward :: Kitware, Inc.
Dominique Belhachemi :: University of Pennsylvania
Josh Blauer :: University of North Carolina
Morry Blumenfeld :: General Electric
Anthony Blumfield :: Radnostics
Lucile Bompard :: University of North Carolina
Francois Budin :: University of North Carolina
Anna Cariello :: University of Utah
Joshua Cates :: University of Utah
Micah Chambers :: UCLA
Laurent Chauvin :: Brigham and Women's Hospital
Min Chen :: Johns Hopkins University
Zohara Cohen :: NIH
Jason Crane :: UCSF
Adrian Dalca :: Massachusetts Institute of Technology
Manasi Datar :: University of Utah
Andriy Fedorov :: Brigham and Women's Hospital
Jean-Christophe Fillion-Robin :: Kitware, Inc.
Julien Finet :: Kitware, Inc.
Preston Tom Fletcher :: University of Utah
David Fuentes :: MD Anderson Cancer Center
Yi Gao :: Georgia Institute of Technology
Guido Gerig :: University of Utah
Behnood Gholami :: Georgia Institute of Technology
Polina Golland :: Massachusetts Institute of Technology
Randy Gollub :: Brigham and Women's Hospital
Alexandre Gouaillard :: A*STAR
Daniel Haehn :: University of Pennsylvania
Xiang Hao :: University of Utah
Nobuhiko Hata :: Brigham and Women's Hospital
Kathryn Hayes :: Brigham and Women's Hospital
Nicholas Herlambang :: AZE Technology, Inc.
Andrei Irimia :: UCLA
Chris Johnson :: University of Iowa
Hans Johnson :: University of Iowa
Peter Karasev :: Georgia Institute of Technology
Ron Kikinis :: Brigham and Women's Hospital
Ivan Kolesov :: Georgia Institute of Technology
Janet Lainhart :: University of Utah
Andras Lasso :: Queen's University
Gaetan Lehmann :: CoSMo Software
Feng Li :: Robarts Research Institute
Yinpeng Li :: University of North Carolina
Curtis Lisle :: KnowledgeVis, LLC
Haiying Liu :: Covidien
Bill Lorensen :: General Electric
Rob MacLeod :: University of Utah
Mahnaz Maddah :: SRI International
Vincent Magnotta :: University of Iowa
Daniel Marcus :: Washington University in St. Louis
Katie Mastrogiacomo :: Brigham and Women's Hospital
Joy Matsui :: University of Iowa
Dominik Meier :: Brigham and Women's Hospital
Bjoern Menze :: Massachusetts Institute of Technology
Mikhail Milchenko :: Washington University in St. Louis
James Miller :: General Electric
Karol Miller :: University of Western Australia
Zach Mullen :: Kitware, Inc.
Sandy Napel :: Stanford University
Vladimir Nikonovskiy :: Physical Sciences, Inc.
Lauren O'Donnell :: Brigham and Women's Hospital
Marram Olson ::
Danielle Pace :: Kitware, Inc.
Beatriz Paniagua :: University of North Carolina
David Partyka :: Kitware, Inc.
Godfrey Pearlson :: Yale University
Steve Pieper :: Isomics, Inc.
Carlo Pierpaoli :: General Electric
Wendy Plesniak :: Brigham and Women's Hospital
Kilian Pohl :: University of Pennsylvania
Marcel Prastawa :: University of Utah
Fred Prior :: University of Arkansas for Medical Sciences
Sonia Pujol :: Brigham and Women's Hospital
Martin Rajchl :: Robarts Research Institute
Petter Risholm :: Brigham and Women's Hospital
Marco Ruiz :: UCSD
William Schroeder :: Kitware, Inc.
Mark Scully :: University of Iowa
Anuja Sharma :: University of Utah
Gregory Sharp :: Massachusetts General Hospital
Dinggang Shen :: University of North Carolina
Liao Shu :: University of North Carolina
Nadya Shusharina :: Massachusetts General Hospital
Martin Styner :: University of North Carolina
Padmavathi Sundaram :: Boston Children's Hospital
Suares Tamekue Tatuebu :: Brigham and Women's Hospital
Allen Tannenbaum :: Georgia Institute of Technology
Xiaodong Tao :: General Electric
Junichi Tokuda :: Brigham and Women's Hospital
Tamas Ungi :: Queen's University
Mustafa Uzunbas :: Rutgers University
Clement Vachet :: University of North Carolina
John Van Horn :: UCLA
Gopalkrishna Veni :: University of Utah
Bo Wang :: University of Utah
Qian Wang :: University of North Carolina
Demian Wassermann :: Harvard Medical School
Sandy Wells :: Brigham and Women's Hospital
Carl-Fredrik Westin :: Brigham and Women's Hospital
Ross Whitaker :: University of Utah
Alexander Yarmarkovich :: Isomics, Inc.
Terry Yoo :: National Library of Medicine
Alexander Zaitzev :: Brigham and Women's Hospital
Kris Zygmunt :: University of Utah