2017 Winter Project Week
From NAMIC Wiki
Home
< 2017 Winter Project Week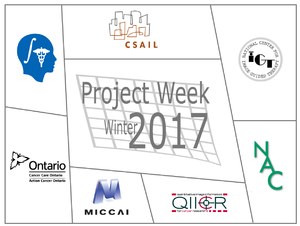 Welcome to the web page for the 24th Project Week!
The 24th NA-MIC Project Week open source hackathon is being held during the week of January 9-13, 2017 at MIT. Please go through this page for information, and if you have questions, please contact Tina Kapur, PhD.
Logistics
Dates: January 9-13, 2017.
Transportation: Public transportation is highly encouraged, as no parking permits will be issued by MIT. For a list of local garages, please see here
REGISTRATION: Register here. Registration Fee: $330.
Hotel: Similar to previous years, no rooms have been blocked in a particular hotel.
Next Project Week: June 26-30, 2017, Catanzaro, Italy
Introduction
The National Alliance for Medical Image Computing (NAMIC), was founded in 2005 and chartered with building a computational infrastructure to support biomedical research as part of the NIH funded NCBC program. The work of this alliance has resulted in important progress in algorithmic research, an open source medical image computing platform 3D Slicer, enhancements to the underlying building blocks VTK, ITK, CMake, and CDash, and the creation of a community of algorithm researchers, biomedical scientists and software engineers who are committed to open science. This community meets twice a year in an open source hackathon event called Project Week.
Project Week is a semi-annual open source hackathon which draws 60-120 researchers. As of August 2014, it is a MICCAI endorsed event. The participants work collaboratively on open-science solutions for problems that lie on the interfaces of the fields of computer science, mechanical engineering, biomedical engineering, and medicine. In contrast to conventional conferences and workshops the primary focus of the Project Weeks is to make progress in projects (as opposed to reporting about progress). The objective of the Project Weeks is to provide a venue for this community of medical open source software creators. Project Weeks are open to all, are publicly advertised, and are funded through fees paid by the attendees. Participants are encouraged to stay for the entire event.
Project Week activities: Everyone shows up with a project. Some people are working on the platform. Some people are developing algorithms. Some people are applying the tools to their research problems. We begin the week by introducing projects and connecting teams. We end the week by reporting progress. In addition to the ongoing working sessions, breakout sessions are organized ad-hoc on a variety of special topics. These topics include: discussions of software architecture, presentations of new features and approaches and topics such as Image-Guided Therapy.
Several funded projects use the Project Week as a place to convene and collaborate. These include NAC, NCIGT, QIICR, and OCAIRO.
A summary of all previous Project Events is available here.
Please make sure that you are on the NA-MIC Project Week mailing list
Conference Calls for Preparation
Conference call phone number and notes are available here.
Calendar
The events are listed in the calendar below. Note that due to a current known limitation of our infrastructure, you will need to manually navigate to the week of January 8, 2017 to see the relevant events.

Error in
widget Google Calendar
: unable to write file /opt/mediawiki/1.33.0/extensions/Widgets/compiled_templates/wrt61e5ca5453e498_20966498
iCal (.ics) link: https://calendar.google.com/calendar/ical/kitware.com_sb07i171olac9aavh46ir495c4%40group.calendar.google.com/public/basic.ics
Projects
Deep Learning and GPUs
Web Technologies
dMRI
Quantitative Imaging Informatics
Shape Analysis, Segmentation
Infrastructure
Training and Dissemination
Tutorial contest (Sonia Pujol)
NVIDIA Demo Contest (Abdul Halabi, Abel Brown)
Project Week Survey (Krisztina Fischer, Tina Kapur)
Background and References
Next project week
Next project week (Paolo Zaffino, Maria Francesca Spadea, Tina Kapur)
Registrants
Do not add your name to this list - it is maintained by the organizers based on your paid registration. To register, visit this registration site.
Aman Shboul, Zaina :: Old Dominion University
Aerts, Hugo :: DFCI-Harvard
Alam, Mahbubul :: Old Dominion University
Anderson, Peter :: Retired
Andruejol, Johan :: Kitware, Inc.
Bakeng, Janne Beate :: SINTEF
Beers, Andrew :: Massachusetts General Hospital
Bernal Rusiel, Jorge Luis :: Boston Children's Hospital
Bremer, Erich :: Stony Brook University
Burke, Brice :: American University of Antigua College of Medicine
Cetin Karayumak, Suheyla :: Brigham and Women's Hospital
Chae, Michael :: Monash University
Chauvin, Laurent :: ETS
Chen, Longquan :: Surgical Planning Lab
Dalca, Adrian :: Massachusetts Institute of Technology
DiPrima, Tammy :: Stony Brook University
Drouin, Simon :: Montreal Neurological Institute
Fan, Zhipeng :: Brigham and Women's Hospital
Fedorov, Andriy :: Brigham and Women's Hospital
Fillion-Robin, Jean-Christophe :: Kitware, Inc.
Fishbaugh, James :: New York University
Frank, Tobias :: Leibniz Universität Hannover
Frisken, Sarah :: Brigham and Women's Hospital
García Mato, David :: Queen´s University / Universidad Carlos III de Madrid
Ghafoorian, Mohsen :: Brigham and Women's Hospital
Ghosh, Satrajit :: Massachusetts Institute of Technology
Girault, Alexis :: Kitware, Inc.
Golland, Polina :: Massachusetts Institute of Technology
Gollub, Randy :: Massachusetts General Hospital
Goncalves, Mathias :: Massachusetts Institute of Technology
Gong, Shun :: Brigham and Women's Hospital
Guerrier de Dumast, Priscille :: University of Michigan
Halle, Michael :: Brigham and Women's Hospital
Harris, Gordon :: Massachusetts General Hospital
Helba, Brian :: Kitware, Inc.
Herz, Christian :: Brigham and Women's Hospital
Hong, Sungmin :: New York University
Hosny, Ahmed :: Dana-Farber
Jagadeesan, Jayender :: Brigham and Women's Hospital
Jarecka, Dorota :: Massachusetts Institute of Technology
Jensen, Henrik G. :: University of Copenhagen
Kaczmarzyk, Jakub :: Massachusetts Institute of Technology
Kapur, Tina :: Brigham and Women's Hospital
Kennedy, David :: UMass Medical School
Kikinis, Ron :: Brigham and Women's Hospital
Lasso, Andras :: PerkLab, Queen's University
Lauer, Rebekka :: Humboldt University Berlin
Lisle, Curtis :: KnowledgeVis, LLC
Mastrogiacomo, Katie :: Brigham and Women's Hospital
Mateus, D. :: TUM
Mehrtash, Alireza :: Brigham and Women's Hospital
Meine, Hans :: University of Bremen
Meyer, Anneke :: University of Magdeburg
Miller, James :: GE Research
Mirabel, Clement :: University of Michigan
Mousavi, Parvin :: Brigham and Women's Hospital
Nitsch, Jennifer :: University of Bremen
Norton, Isaiah :: Brigham and Women's Hospital
O'Donnell, Lauren :: Brigham and Women's Hospital
Onieva, Jorge :: Brigham and Women's Hospital
Oram, Louise :: The Intervention Centre-Oslo University Hospital
Padhy, Smruti :: Massachusetts Institute of Technology
Paniagua, Beatriz :: Kitware, Inc.
Parmar, Chintan :: DFCI-Harvard Medical School
Peled, Sharon :: Brigham and Women's Hospital
Pienaar, Rudolph :: Boston Children's Hospital
Pieper, Steve :: Isomics, Inc.
Pinter, Csaba :: Queen's University
Preiswerk, Frank :: Brigham and Women's Hospital/Harvard Medical School
Prieto, Juan :: NIRAL
Pujol, Sonia :: Brigham and Women's Hospital/Harvard Medical School
Rankin, Adam :: Robarts Research Institute
Rheault, Francois :: Université de Sherbrooke
Roethe, Anna :: Humboldt University / Charité University Hospital Berlin
Ross, James :: Brigham and Women's Hospital
Szczepankiewicz, Filip :: Lund University
Sharp, Gregory :: Massachusetts General Hospital
Sridharan, Patmaa :: University of Pennsylvania-CBICA
Szasz, Teodora :: University of Chicago
Tokuda, Junichi :: Brigham and Women's Hospital
Unadkat, Prashin :: Brigham and Women's Hospital
Van Griethuysen , Joost :: Netherlands Cancer Institute
Vidyaratne, Lasitha :: Old Dominion University
Wang, Yaofei :: Brigham and Women's Hospital
Wang, Ziyang :: Brigham and Women's Hospital
Wei, Dawei :: Brigham and Women's Hospital
Westin, Carl-Fredrik :: Brigham and Women's Hospital, Harvard Medical School
Woo, Jonghye :: Massachusetts General Hospital
Xu, Wanxin :: Brigham and Women's Hospital
Yang, Yixin :: Brigham and Women's Hospital
Ye, Wu :: Brigham and Women's Hospital
Zaffino, Paolo :: Magna Graecia University of Catanzaro, Italy
Zeleznik, Roman :: DFCI
Zhang, Fan :: Brigham and Women's Hospital
Zhang, Hongtao :: Hebei General Hospital
Zhang, Miaomiao :: Massachusetts Institute of Technology
Zhang, Yuqian :: Brigham and Women's Hospital
Zhou, Haoyin :: Brigham and Women's Hospital
Ziegler, Erik :: Open Health Imaging Foundation/Mass General Hospital